Introducing B Corper @MRCagney.works
Mon, March 27, 2023 | General
MRCagney is one of Australasia's leading sustainable transportation consultancies. We pride ourselves on helping clients make a positive difference in the world. As part of our continuing effort to be a force for good, we recently became B Corp certified. This ensures that while we help our clients get better outcomes for their communities, we also hold ourselves accountable and practice what we preach.
Certified B Corps are leaders in the global movement for an inclusive, equitable, and regenerative economy. To become certified, a company must go through a rigorous assessment where governance, employee representation, and environmental impact are evaluated.
To pass the evaluation, a company needs to score at least 80 points. When we received our score of 113.9, we were happy. We were well above the threshold and could celebrate our official B Corp status.
But we're also data nerds who immediately started asking questions like, "How did we score against other companies in Aotearoa?", "Who has the highest score?", "How do we compare to other companies in our industry?" This information wasn't easy to find, but we were able to track down a master database of B Corps. So, naturally, we took that data, our data visualisation knowhow, and built an app that allows you to sort, filter, and map certified B Corps. We couldn't help ourselves.
B Corper is an interactive app that allows you to look at all certified B Corps in the world. You can filter by company name, score, country, industry, company size, and date certified. So, if for some reason, you wanted to know how many companies in the manufacturing sector in Canada became certified in 2017, you can find that out (there were six).
So, how did we do?
Of all the companies in New Zealand that have employees (i.e., are not a sole trader), there were only five that had a higher score than our 113.9.

There are also only four companies in our industry in New Zealand that are B Corp certified and we are proud to say we have the highest score.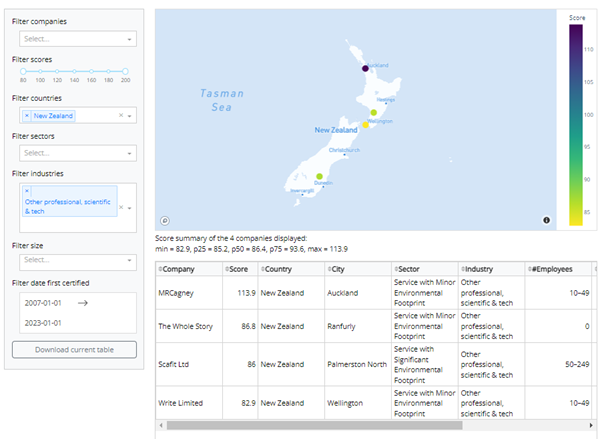 Building this app was just a bit of fun for us to celebrate our B Corp certification and explore the questions we had about how MRCagney compares. There are tons of other ways to slice and dice the data, and cool maps to look at, so if you're interested, have a look at https://bcorper.mrcagney.works, play around with it, and tell us what you think.