Introducing Transport2030.org
Fri, May 15, 2020 |
I've been working from home now for 6 weeks. Even though I did work at home a little before lock-down, it was by choice and a chance for quiet work than for any other reason. Working from home is one thing but being at home trying to work is something else as I'm sure many of us have discovered.
Most of us are not normally in one place for any sustained period of time. 6 weeks in one place, hardly using our car, definitely not using public transport. Walking a lot, working a lot. These six weeks have given us all time to pause, time to think about a different future.
Well I have certainly done some thinking, even in the chaos of childcare, work, home and worry. As individuals and as a nation we acted swiftly and together to minimise a danger to us all. It was tough, it was a change, a response and a speed that three months ago would have seemed impossible. Everyone seemed to be aware that there were going to be challenges and consequences to the decision made to go into lock down, with many of these still to play out. In the meantime, there have been many advantages to this quiet space of time. Who else has enjoyed being able to ride peacefully on the road or take a walk on quiet streets without cars zooming past?
What's next? What will happen when climate change hits?
As a community and as a globe we also face another danger that, while happening much more slowly, poses a far greater threat to lives, the economy and future generations. Given we've learnt so much by responding to one threat, how about we start doing the same for climate change?
Working out how to really change transport's impact
Transport is a key contributor to the emissions we need to reduce to combat climate change. I've always known this, but even as sustainable transport professional, I have struggled to understand how much transport contributes and how different projects might make a difference. How can we make a difference if we don't know what to prioritise? It is for this reason that the team at MRCagney has developed Transport2030.org
Transport2030 is an interactive calculator which estimates how transport projects and changes in behaviour can impact emissions. It's not a complex model. Basically, it's a "back of the envelope" estimate, albeit a slightly fancy envelope. We've tried to be transparent about our process so we have shared our methodology and assumptions on the site. As a side outcome, the app has also provided an interesting estimate on how the behaviour during lockdown compares with what might be needed in the future. If you think a carless month is going to do it: think again. See how much it takes to move that 2030 scenario.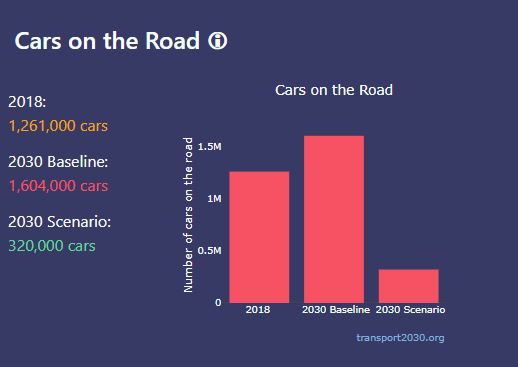 Shown here: At one stage NZTA was estimating an 80% drop in trips taken by 2030. Our scenario shows the impact of that drop on numbers of cars on the roads.